WARNING: SPOILERS
Supernatural season 13 aired last night which officially means the end for the show's longest-serving adversary. Mark Sheppard quickly became a fan favourite when he joined the show in season 5 and he eventually became a series regular in season 10. His on/off relationship with Sam and Dean has been one of the best parts of the show and, love him or hate him, his rise from a crossroads demon to the King of Hell deserves a round of applause.
So, what is the secret to Crowley's longevity? The past twelve seasons has seen many a villain come and go but Crowley has somehow remained. The answer is simple. He was the only one who never underestimated the Winchester brothers and he knew exactly what they were capable of. They stopped the freakin' apocalypse for Christ's sake!
Crowley's journey throughout the series has been one of the most enjoyable to witness: he clawed his way to the crown to become the King of Hell, he's gone from being Sam and Dean's greatest enemy to a partial ally, he's reconciled and unreconciled with his witch mother, he suffered the loss of his son (again), and somehow managed to get his hands on the real 'Mona Lisa'.
There are numerous ways in which we could honour the actor/character who has entertained us all for the last eight years but, in an endlessly quotable show, Crowley always knew how to deliver a line.
So, here are my top 15 favourite Crowley quotes:
"THEY BURNT DOWN MY HOUSE! THEY ATE MY TAILOR!" (5.20)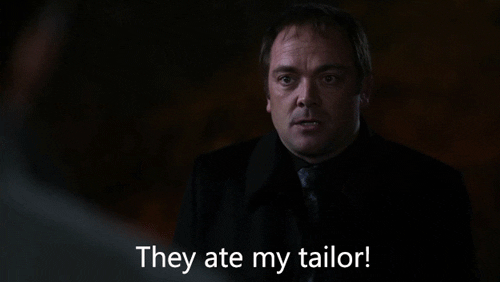 "YOU'RE GOOD. BUT I'M CROWLEY." (9.11)
"DON'T WORRY ABOUT… WHAT, LIKE LUCIFER DIDN'T WORRY? OR MICHAEL, OR LILITH, OR ALISTAIR, OR AZAZEL DIDN'T WORRY? AM I THE ONLY GAME PIECE ON THE BOARD WHO DOESN'T UNDERESTIMATE THOSE DENIM-WRAPPED NIGHTMARES?" (6.20)
"NOW, IF YOU'LL EXCUSE ME. I HAVE A LITTLE HELL TO RAISE." (6.04)
"LISTEN TO ME DEAN WINCHESTER, WHAT YOU'RE FEELING RIGHT NOW IS NOT DEATH, IT'S LIFE. A NEW KIND OF LIFE. OPEN YOUR EYES DEAN, SEE WHAT I SEE, FEEL WHAT I FEEL. LET'S GO TAKE A HOWL AT THAT MOON." (9.23)
"FANCY A DRINK BEFORE YOU SMITE ME?" (7.01)
"YOU BETRAYED ME? NO ONE IN THE HISTORY OF TORTURE HAS BEEN TORTURED WITH TORTURE LIKE THE TORTURE YOU'LL BE TORTURED WITH." (9.21)
"YOU'RE GUILTY OF… SOMETHING. WHICH I WON'T TOLERATE. WHATEVER IT WAS." (10.03)
"NOT EASY… TO KILL ME, BUT DOABLE. ESPECIALLY FOR YOU LOT. YOU KILL ANGELS. YOU CAN CERTAINLY WIPE A DEMON OFF THE BOARD. AND YET, HERE WE ARE, NEGOTIATING LIKE PROPER PSYCHOPATHS." (7.23)
BEAU: "Our next lot, the Word of God… capital "G" – very old, very rare."
CROWLEY: "Three billion dollars."
DEAN and SAM: [simultaneously] "Whoa."
SAMANDRIEL: "The 'Mona Lisa.'"
CROWLEY: "The real 'Mona Lisa', where she's topless."
SAMANDRIEL: "Vatican City."
CROWLEY: "Alaska."
BEAU: "Palin and a bridge to nowhere? No, thanks."
CROWLEY: "All right. The moon."
DEAN: "You're bidding the moon?"
CROWLEY: "Yeah. Claimed it for Hell. Think a man named Buzz gets to go into space without making a deal?" (8.02)
"WE'VE HOWLED. WE'VE BAYED. WE'VE DONE EXTRAORDINARY THINGS TO TRIPLETS, ALL OF WHICH HAVE BEEN MASSIVELY ENTERTAINING. I WILL TREASURE OUR FLICKR ALBUMS FOREVER. BUT NOW IT'S TIME FOR US TO ACCEPT WHAT WE ARE AND GO BACK TO WORK." (10.01)
"WHY CAN'T YOU PEOPLE JUST SIT ON CLOUDS AND PLAY HARPS LIKE YOU'RE SUPPOSED TO?" (10.03)
"CAN I GET YOU WITHOUT THE FLANNEL? NO. STILL, I ENDURE." (12.08)
"YOU CROSS ME, I CRUSH YOU. YOU HIT ME, I HIT YOU BACK TWICE AS HARD. YOU MAKE ME YOUR DOG, I MAKE YOU MY SLAVE." (12.15)
"BYE, BOYS." (12.23)
---
And let us not forget Crowley's voicemail message reads: "Too busy inflicting pain to answer. Leave a message."
Badass.
Crowley/Mark Sheppard you will be sorely missed. It's hard to imagine any future antagonist being able to fill your shoes and I'm sure all Supernatural fans would agree that they couldn't.